VigorSwitch P1085 8 poorts Gigabit PoE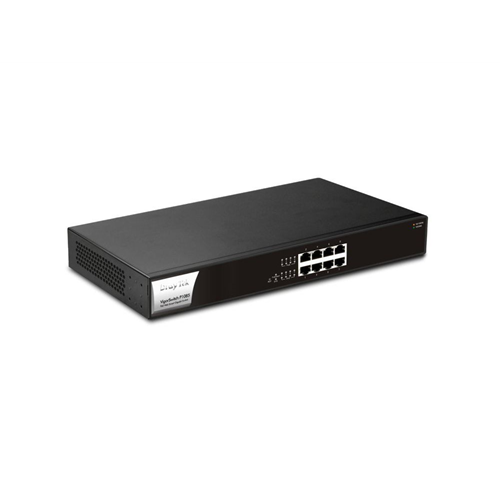 VigorSwitch P1085 8 poorts Gigabit PoE, websmart managed switch, poort 1-8 ondersteunt PoE+, 140W totaal PoE Power (tot 30W per poort) (incl. brackets), VigorACS 2 compatible
De VigorSwitch P1085 is een compacte 8 poorts Gigabit websmart switch die Power over Ethernet ondersteuning biedt tot een totaal vermogen van 140 Watt. Alle poorten zijn geschikt voor PoE en PoE+. Door het toepassen van een Power over Ethernet switch kunnen PoE gevoede apparaten zoals telefoons, access points of camera's aangesloten worden zonder dat hiervoor een aparte power adapter of PoE injector nodig is.
De switch beschikt over uitgebreide faciliteiten voor maximale LAN performance, VLAN mogelijkheden voor een flexibel netwerk design en Quality of Service mogelijkheden voor flexibele bandwidth control.
Met 8 Gigabit LAN poorten is deze switch ideaal voor het toevoegen van netwerkpoorten aan een DrayTek Vigor router, het implementeren van complexe netwerken met VLAN's en het toevoegen van beveiliging op poortniveau met de access control list van de switch.
Fanless switch
De switch wordt passief gekoeld en is daardoor geschikt om in ruimtes te plaatsen waar geluid van ventilatoren ongewenst is.
Not in stock
Please contact us for more information.
€
181
,
00
(

€

219

,

01

inc VAT

)